JOHN LAW
Music: J.S.Bach/John Law
Piano: John Law
Visuals: David Daniels
Performance of visuals: Patrick Dunn
Prize-winning, internationally acclaimed jazz pianist and composer John Law, returns to his classical roots with a re-working of J.S.Bach's famous masterpiece the Goldberg Variations.

With added electronic ambient opening and closing bookends, Bach's work is presented on piano, with added visuals. The complete score, including John's added opening and closing compositions, has been stylishly visualized, the film operated live to fit the live performance of the music. The resulting experience is a deeply moving one that goes right to the essence of the music contained in this epic masterpiece.

In the first half John will be performing original solo jazz compositions, partly inspired by Bach, and also some original Bach, to tie in with the Goldberg.
Biographical Information:
John Law, a prize-winning classical prodigy on piano, turned away from classical piano studies to pursue jazz and improvised music when he was 23 and has been involved in, and acclaimed for, his work in a wide variety of contemporary jazz projects: from solo piano concerts and albums through trio and quartet tours and recordings, right through to large scale works for his semi-classical ensemble Cornucopia. He has played at over fifty festivals worldwide and recorded over thirty albums, working with musicians as diverse as Gwilym Simcock, Andy Sheppard, Jason Rebello, Tim Garland and Evan Parker. John's main projects currently are his acclaimed trio/quartet Congregation, which has toured all over Europe, appearing to stunning audience acclaim in concert halls, clubs and at festivals such as the North Sea jazz Festival (Rotterdam) or the Queen Elizabeth Hall, London, at the London Jazz Festival, as well as solo piano projects, his electric project Boink! which combines electric keyboards, guitar, saxophone and drums with electronic music soundscapes and live, interactive visual backdrops and Goldberg, his recreation, with added visuals, of Bach's original work.

"...combining the vocabularies of jazz and classical in a singular and seamless way, coalescing improvisational surprise and a deep elegiac musicality..." All About Jazz 2011

"...so full of joy that it can renew your faith not just in jazz, but music itself." Phil Johnson, Independent on Sunday 2011

"An interesting and highly gifted maverick musician" Alfred Brendel

"One of this country's most imaginative young pianists" The Times

"When he records for ECM he'll become a star" Jazzthethik, Germany

"...technical bravura with crystal clear, fast passagework coupled with a sovereign command over everything that is pianistically possible. You wonder if there is actually anything that this pianist cannot do." Jazz Podium Germany 1997

Award-winning digital animator David Daniels has toured widely, as a live artist for musicians such as Bryan Adams, Led Zeppelin and Pink Floyd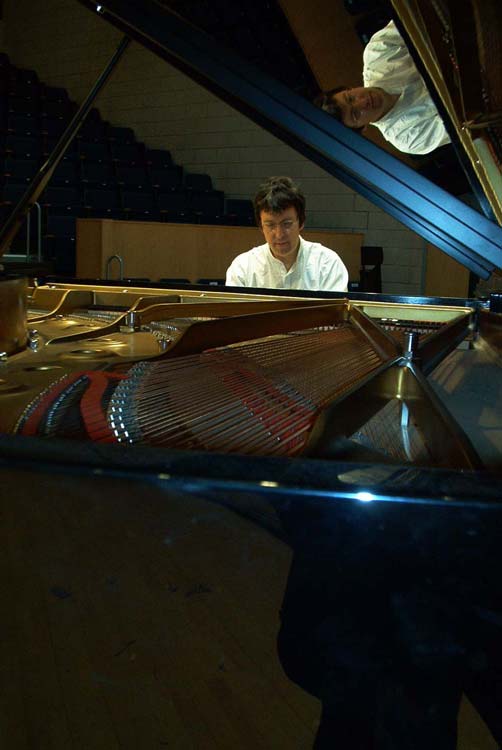 John Law - photo credit: Mel Day